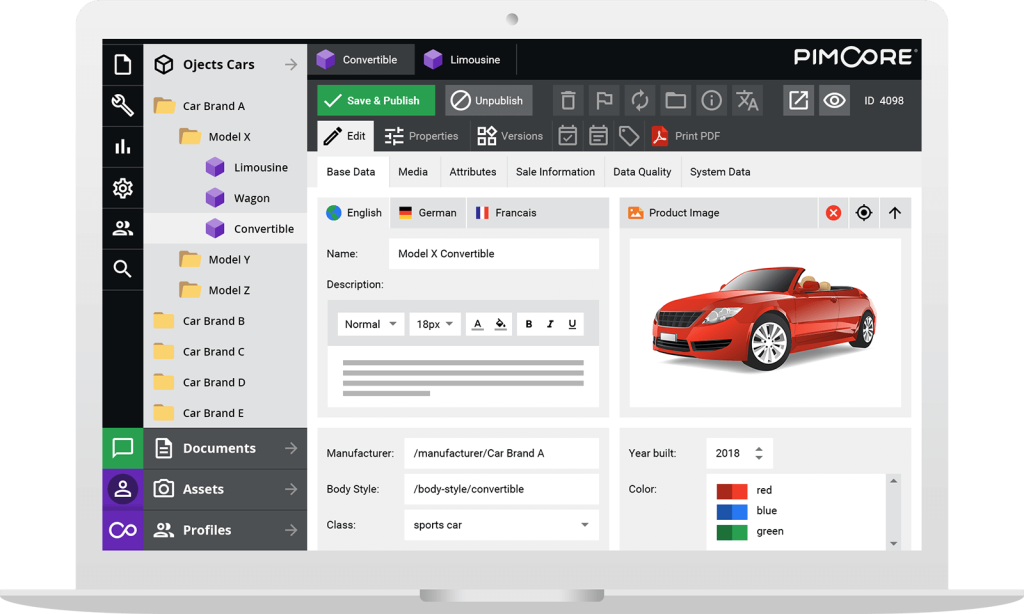 In today's dynamic environment, online merchants and e-stores must position well on the competitive online marketplace, and at the same time – choose appropriate infrastructure so that they can reduce the costs and improve their efficiency.
An obvious response to these challenges is the process of data automation, which will facilitate and speed-up the e-store daily operations. The automation will deliver greater efficiency, quality and standardized communication between your business and the customers, leading to greater benefits for both parties.
E-reactor with its proven track of implemented product information systems, can help you in this automation process. Adding PIM as part of an e-commerce workflow will help your organization optimize data creation, sharing and publishing, hopefully leading to higher revenues in today's high-demanding consumer and B2B markets.
The benefits of Pimcore
PIM states for Product Information Management, and it denotes the process of collecting and managing all required product information — text descriptions, images and more. To keep product information up-to-date is a challenging task. Entering a single product as a web listing is not a complex task – managing thousands of products (to be accurately displayed) can be high-demanding task. Building up the product database in an efficient way, will allow you to save time and improve the whole marketing process.
E-reactor utilizes Pimcore as a free open-source platform that enables managing and mastering product data on multiple online sales channels. By adopting the Pimcore platform, you as web merchant, can quickly add new products to your online platforms and sales channels. Also, you can efficiently update the existing product listings. The ultimate goal is to ensure that the customers have access to accurate information about the products in sale, no matter the sales channel they will use.
We have more than 3 years experience in integrating external data sources to the PIM, and from PIM – sending them to Magento 1 and Magento 2 web-shops – in multiple countries and languages. Our highly skilled personnel have specialized in optimizing and automating the data interchange between internal ERP systems, PIM and the existing shops. Thus – we can successfully transform your online business by implementing efficient product information management.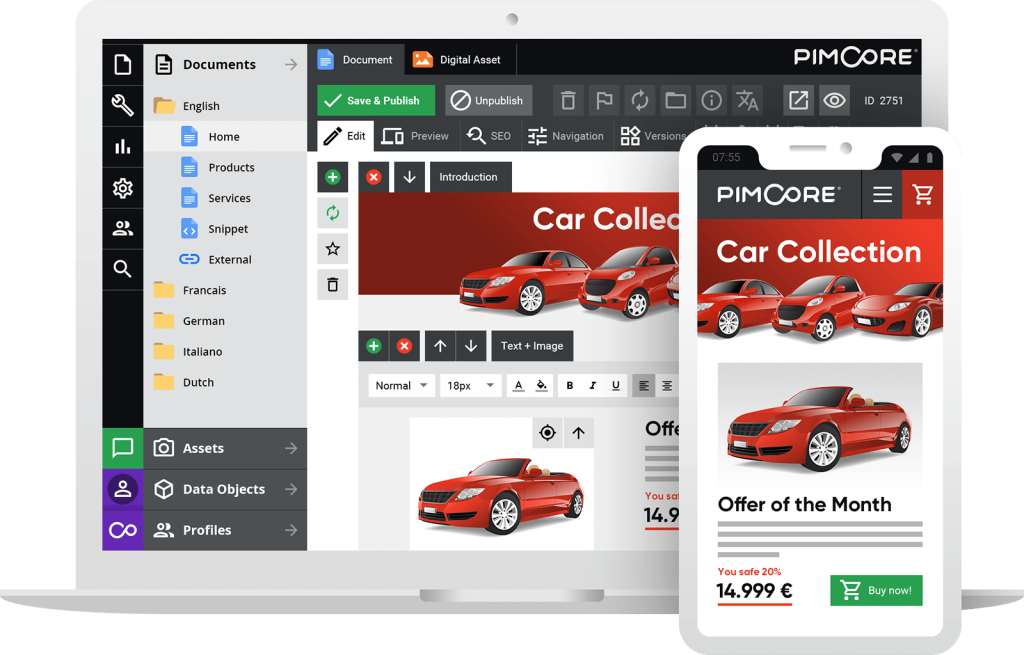 Maintain one repository for Product information
Product information comes from different and distributed sources. Based on our integration components, the Pimcore platform can provide your web stores with product data directly from multiple data sources, ensuring accuracy and saving significant time. Pimcore enables you to combine product specifications, marketing copy, and creative assets. Data can be automatically imported from sources like an enterprise resource planning (ERP), added into the Pimcore directly, and stored into a single database.
The stored data of the products in the PIMcore platform can efficiently be exported to populate your e-commerce website, online catalog, marketplace, and social media channels. And if changes or updates are needed for the product listings, the adjustments made in Pimcore – will update product data across all of the listings on all sales channels either in near-real-time or as nightly batch jobs depending on the amount of data that needs to be updated.
Reach the Market faster
For every online business – it is important to reduce the time for launching new products or sales channels. The Pimcore platform will bring you efficient product data management, so the time-to-market will lower, and your business will start making revenue faster.
Marketers and e-commerce teams usually retrieve the product information from an ERP, which is time consuming. With our assistance and Pimcore – the process will speed-up by avoiding emails and questions. Your employees will know where to find the most up-to-date information and easily access it.
Pimcore can be integrated into existing e-commerce platforms. Automated workflows will eliminate your manual data entry, allowing your teams to launch and maintain new products and sales channels faster.
Provide Accurate and Consistent Product data
When the online product information is incomplete or wrong – it could result in reduced sales, thus lowering overall profit. E-reactor's solutions allow web stores to import, add, and update data in single point, thus improving the quality and consistency of the product data. The changes made in your Pimcore system will be propagated across the entire e-commerce platform, and the accurate information will help build the store's reputation as a reliable brand.
Enhance the Customer experience
Customers experience and feedback during the e-shopping sessions is as important as your company's products and services. Today customers use multiple channels, and it is important to provide a unified experience across all contact points. Pimcore, as a single source for web store's product data, will ensure that your clients receive the most accurate information at every step of the purchasing process, and will improve the overall customers experience.
Start using Pimcore today
At E-reactor, we specialize in simplifying how content is delivered to market. Our combined digital asset management (DAM) and PIM platform bring your product specifications, marketing copy, and digital assets into one flexible, scalable system. Book a demo to discover why some respectable brands around the world trust the solutions delivered by E-reactor for their content management and distribution needs.